2021 Kids Camp
Kids Camp 2021 registrations are now open! Please register before July 2nd. 
Kids Camp will, Lord willing, be held from July 9 - July 13, 2021 where we have the opportunity to join with the British Columbia Kids Camp.
The speaker is Bro. Greg Robinson from the Thousand Oaks, CA Ecclesia and the topic is "The Early Life of David."
The format this year will be quite different from previous years. Lord willing, we will be meeting at the Simi Hills Ecclesial Hall, beginning at 8:00am on Saturday morning and participants will be attending from 8:00am to 1:00pm on Saturday, Monday and Tuesday. There will also be activities over zoom Friday through Tuesday evening and on Sunday.
While meeting at the Simi Hall, we will be following the Simi Hills Ecclesial "COVID-19 Prevention Plan."
If you have any questions, please contact either Bro. Jimmy and Sis. Katie Glover, or Bro. Jonathan and Sis. Tiffany Wisniewski.  We look forward to seeing you at our Kids Camp 2021!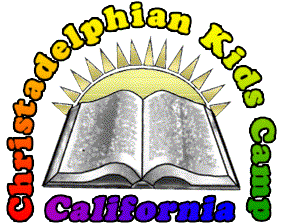 THE PURPOSE OF THE CAMP:
California Christadelphian Kid's Camp has been held every summer since 2001. We continue to be very thankful to our Heavenly Father for this wonderful privilege. The camp is designed for students who want to learn more about the Word of God and who are prepared to work hard. At the same time, there will be opportunities for fun activities and meeting other Christadelphian young people. We are confident that it will be valuable in instruction and in exhortation for everyone attending the camp.
We look forward to a wonderful week around God's Word enjoying the companionship of others who aspire to be God-like in their behavior