It is our wish to keep the safety of the children and of all the brethren and sisters involved with Kids Camp as a top priority. Therefore, with a great amount of prayer, discussion and sadness, we have determined it to be necessary to cancel Kids Camp 2020.
Please reach out directly to Bro. Jimmy or Sis. Katie Glover regarding finances to request a refund or to make a donation.
If we don't hear from you by September 1st, we will assume that you want to donate your entire Credit Balance to the Kids Camp.
We patiently and yet eagerly await the coming of our Lord and Savior Jesus Christ when all disease, pain and suffering will be done away with as the glory of the Lord, covers this earth.
- Kids Camp Committee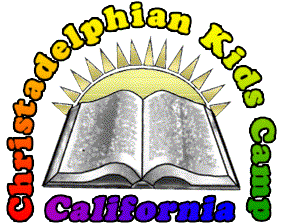 THE PURPOSE OF THE CAMP:
California Christadelphian Kid's Camp has been held every summer since 2001. We continue to be very thankful to our Heavenly Father for this wonderful privilege. The camp is designed for students who want to learn more about the Word of God and who are prepared to work hard. At the same time, there will be opportunities for fun activities and meeting other Christadelphian young people. We are confident that it will be valuable in instruction and in exhortation for everyone attending the camp.
We look forward to a wonderful week around God's Word enjoying the companionship of others who aspire to be God-like in their behavior